As an essential business, we are still open and operating under normal business hours.
Even if your business is experiencing reduced hours or closures due to COVID-19, we still have flexible options to provide you with top-notch Security on Demand services. Call today to learn more.
Call Now
Security Guard Company in Albuquerque, NM
Your Security Guard Agency
Advance On-Site Protection Security has been providing safety and peace of mind to homes and businesses throughout Albuquerque, Rio Rancho, Carnuel, and North Valley, NM for more than a decade. With security on demand, we employ talented and knowledgeable security professionals dedicated to keeping customers and their assets safe.
Security for Homes and Businesses
Since 2007, Advance On-Site Protection Security has been the premier security guard firm in Albuquerque, NM. We take pride in our ability to provide our clients with common-sense security solutions. Our dedicated team members strive to help you feel safe and sound at all times. At our firm, your safety is our top priority. We provide each and every one of our clients with the highest possible standard of security services available. Our versatile services are tailored to meet the needs of every individual client, meaning that whether you're looking for protection for your home, business or commercial site, you can rely on us. Fill out our service request form to learn more!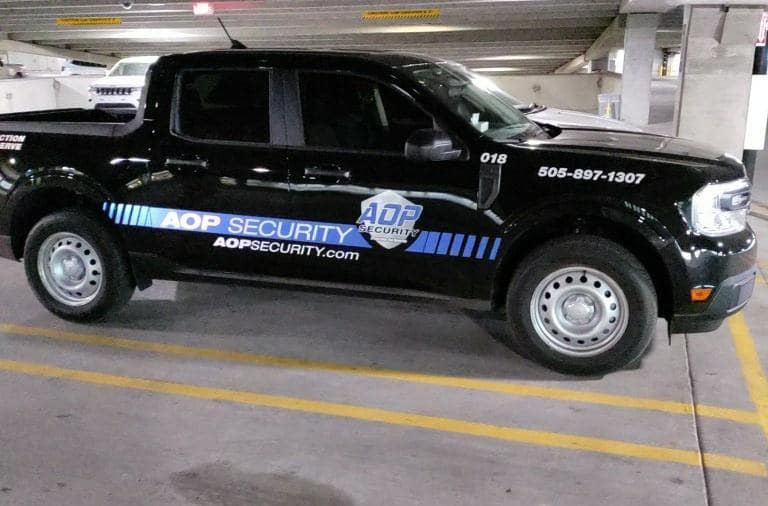 Advance On-Site Protection Security employs security professionals with a background in law enforcement or military service whenever possible, and our personnel are subject to the most stringent security training regimens. Our teams implement some of the most technologically advanced security equipment on the market, and we are consistently updating our gear and processes to provide the best possible protection. We maintain a Private Patrol Operator License with the state of New Mexico, ensuring we offer the highest standards of personal and private asset protection.
---
Security On-Demand
Here are just a few of the reasons that we are the most dependable security guard company in Albuquerque, NM:
Our team has extensive experience in both military and law enforcement institutions.
We offer flexible availability and quick response times.
Our business has more than 10 years of industry experience.
We maintain a Private Patrol Operator License in the state of New Mexico.
Our team utilizes the most state-of-the-art tools and training processes available.
Secure Your Space
If you're looking for a way to achieve peace of mind and secure your home and assets, contact Advance On-Site Protection Security today. With patrols, alarm systems, 24-hours security for your home or business, guards, and ready-to-go response teams, we'll provide you with a clear peace of mind.
Contact Us
Proudly offering security guard contractors to Albuquerque, NM and the surrounding area:
Rio Rancho, NM
Santa Fe, NM
Los Lunas, NM
Corrales, NM
Laguna, NM
Belen, NM
Placitas, NM
Bosque, NM
Bosque Farms, NM
Edgewood, NM
Peralta, NM
Santo Domingo Pueblo, NM
Jarales, NM
Tome, NM
Jemez Pueblo, NM
Estancia, NM
Mcintosh, NM